Search Engine Optimization
Rank Higher on Google, Gain More Customers
Getting found on Google is critical for your business, let us help you rank up. We provide search engine optimization for companies like yours who are seeking to one-up the competition and earn more business with a higher position on Google. SEO is your new secret weapon.
"Professional, timely, and quick!"
"Showing higher in our area"
"He takes care of everything"
Google uses over 200 factors to organize, index and rank websites. Imagine a giant checklist that contains a variety of tasks; Some simple, some complex. When we do SEO for your company, we take charge of the checklist so you can rise to the top!
We'll audit your website and advise what needs to change to have maximum impact on your ranking position in the SERP (search engine results page). Once we've established an SEO strategy, it's time to execute.
Even if you'd just like a SEO audit to see where you need help, we are here for you.
Frequently Asked Questions About Search Engine Optimization:
Marx Mechanical Heating & Cooling
Marx Mechanical has enjoyed over 2 years as the top heating and cooling contractor in Uxbridge, Ontario. With such a sustained presence they were able to expand into nearby territories and garner many 5 star reviews.

This graph shows the growth of the website over time. As SEO work is implemented, the site shows up more and more on Google and at a higher position. More people can find the site and click through to visit.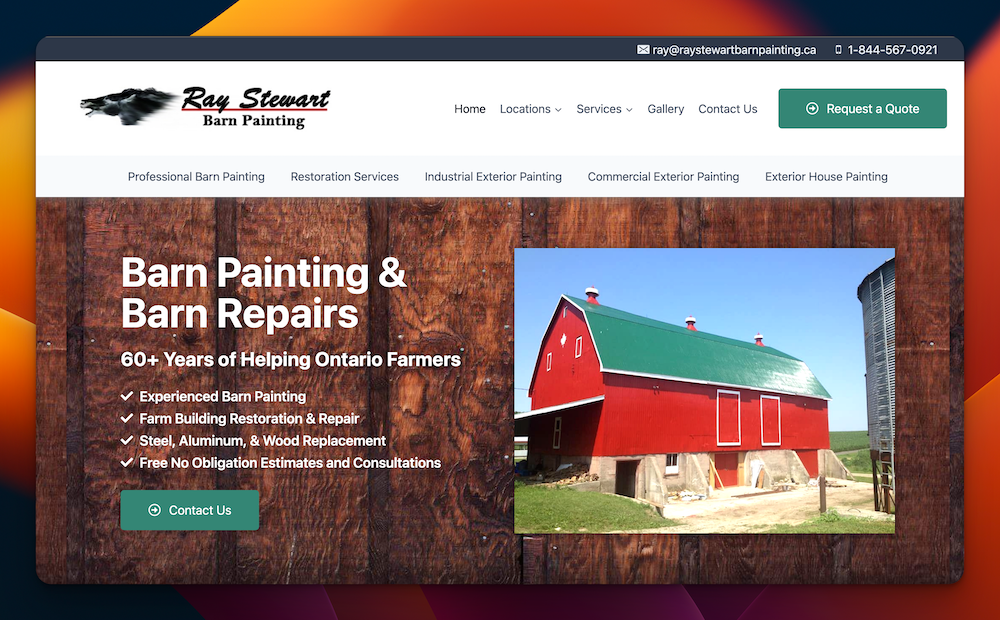 Ray Stewart Barn Painting
We've been working with Ray for many years. We continue to drive traffic and leads to his website to help sustain his business. Ray does not do any other form of promotion for his business. SEO provides massive ROI for this local barn painting company.
With this line of work being seasonal, there will remain variability in search appearance.
Bringing in over 1000 potential leads per year makes SEO a slam dunk.
SEO is a Very Effective Investment
Search engine optimization starts with analyzing your site. Getting to know what's going on under the hood provides great insight into what comes next.  These 'on-site' factors are just the beginning as there are many different sub-specialties of SEO:
On-site SEO relates to the content and structure of your website. Proper headings, navigation, content detail, image optimization, and more.
Technical SEO is an extension of on-site SEO and deals with the behind the scenes coding that effects page speed, caching, schema among other things.
Off-site SEO involves many tasks that connect your website to the greater internet. Backlinks and creative writing are extraordinary tools.
Google Business Profile (GBP) is the listing that literally puts you on the map and enables reviews & posts. GMB can be one of the biggest lead-generating digital properties you use.
Often referred to as citations, business listings work in conjunction with your GMB listing to help increase your geographic authority and your topical relevance.
Content marketing is a hybrid SEO strategy that involves creating written content. This content can be used 'on-site' and 'off-site' to further enhance your brand's strength.
Start with a website audit to discover key areas of improvement for your web presence. A proper SEO audit will shed light on technical factors, off-site factors, and even domain errors (like SSL and improper redirects).
Ready to rock? Still have questions? Send us a message!
We respond quickly.