Virus Removal & Computer Speed up
Simcoe, Ontario and Norfolk County
I've been helping people in Simcoe and Norfolk County with their computers since 2004. I specialize in virus removal and computer optimization/speed up.
Do you suffer from the following:
Computer is slow to start
Computer takes forever to open programs
Frequent and intrusive pop ups on the web
A search engine with a 'mind of it's own'
A 'virus program' telling you to pay and upgrade
How Do Problems Start on Computers?
Over time, your computer can build up background junk and clutter that really make your computer slow down. It's not necessarily a virus that's slowing your computer, but it's still something that requires attention.
If you feel like your computer is taking extra long to start, or it's taking forever to open programs or even browse the web, call me to help!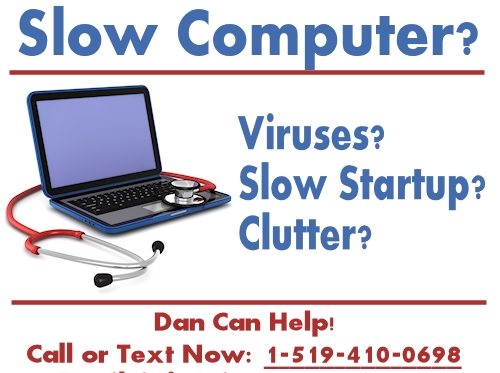 I also operate the website for a Simcoe Computer Repair Company
How Long Does it Take to Fix a Computer?
Typically a computer is repaired and returned in less than 24 hours. There may exist more difficult situations where extra time is needed to get to the root of the problem, but this is rare.
What's the Repair Plan, Man?
The most common situation for fixing your computer is that you drop it off at my home in Simcoe. My schedule makes on site visits difficult, so I try to discourage house calls in favour of drop offs at my location.
If you require extra care in this regard, we can discuss it, however, the swiftest method of having your computer fixed and sped up like new is to bring it to me.
What are the Most Common Computer Problems in Simcoe
The number one problem affecting most of the computers I've fixed in Simcoe is clutter.
I use clutter as a general terms to describe the gradual accumulation of browser add-ons, downloads, fake virus programs, startup processes, and printer software that manage to sneak their way on to your computer, either accidentally, intentionally, or nefariously.
CALL OR TEXT ME, DAN, TO GET YOUR COMPUTER RUNNING LIKE NEW: 519-410-0698